With warmer weather finally here, it's a great time to take your fur buddy out to the dog park to stretch those legs and burn off some extra energy. We're so lucky to have more than 40 Edmonton dog parks throughout the city and we've put together our favourite Edmonton Dog Parks for you and your hound to explore!
Got a fave dog park that's not on our list? Share yours in the comments below!
Terwillegar Dog Park in NW Edmonton is by far a fan favourite not only for its off-leash area but also for the beautiful views of the river and its ample bicycle and running trails that meander throughout the park. The off-leash park features plenty of room for Rover to run while you socialize with other dog owners. As an added bonus your pooch can cool off along the North Saskatchewan River on hot summer days.
The Hawrelak Off Leash Trail has a vast amount of space for dogs to run and play and the park's tree-lined spaces provide great shade coverage on sunny days. The trails are well-maintained, although parking can sometimes be scarce when the weather is good.
Mill Creek Ravine Park is a favourite spot for dog walkers and outdoor enthusiasts craving an escape from urban life. There is a meandering creek running through the park plus lots of well-paved trails with access points leading to riverside beaches. The off-leash area offers dogs plenty of space to run, explore, and swim!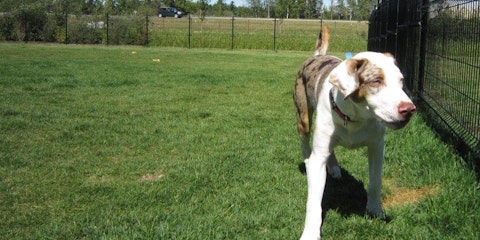 Edmonton's only gated members-only dog park, the Central Bark is a monitored and gated area for dogs to play and socialize with other members. The 3-acre park is surrounded by wire fencing and separated into two play areas: one for dogs who like to socialize and play with dogs all shapes and sizes; and one for smaller breed dogs who aren't comfortable hanging with the big dogs. A portion of membership fees goes toward maintenance and future park improvements.
Located on the south bank of the North Saskatchewan River, Gold Bar Park offers an off-leash trail that runs along the river for you and your pooch to explore. The trail is accessible year-round and offers stunning views when the leaves start to change in the fall.
One of readers introduced us to this hidden gem, thanks George! Jackie Parker Park boasts a huge, well-maintained green space for dogs to run freely, as well as a friendly, dedicated group of park users that help make sure the park stays clean.